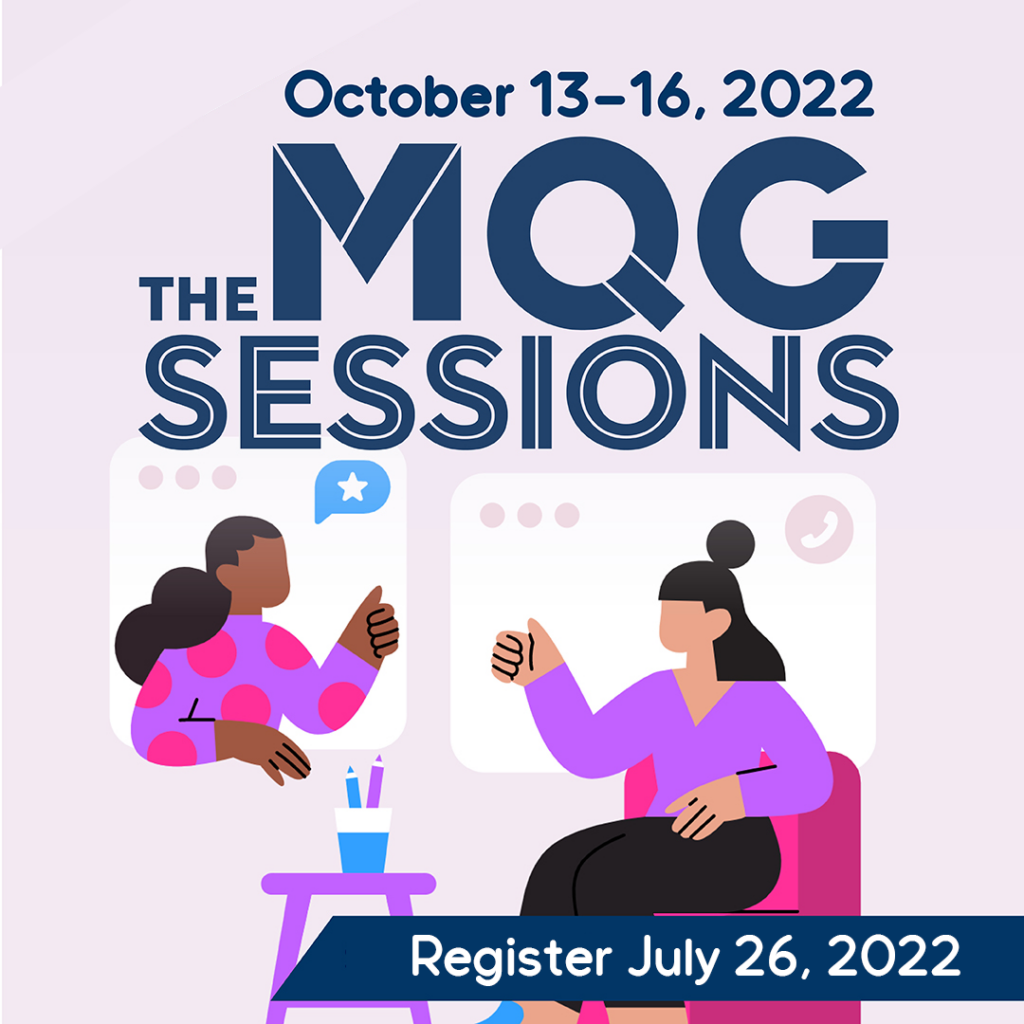 Announcing the MQG Sessions Vol. 1
Ready to stitch, craft, and connect from home? Spend the weekend learning from some of the best quilting instructors in the comfort of your own home at the first MQG Sessions virtual event.
Pricing & Registration
The MQG Sessions is for MQG members only — all of the fantastic education and social events are included in one flat cost of $95 per person.
Every education session is recorded and registered attendees can watch live and replay the recordings on demand for 14 days following the event. Registration is now open for MQG members!
Our Faculty
Schedule
Thursday, Oct. 13, 2022
9-10 AM CDT/2-3 PM UTC:
Managing Your Stash (and Scraps!)
Kim Soper
Is your stash is getting. . . too big? How many scraps you should actually keep? In this fun and upbeat lecture, we'll talk about how to know when you're holding on to too much fabric; how to sort, store, and organize the fabric you want to use; how to let go of what you no longer love; and how to be a more intentional fabric shopper in the future.
10:30-11:30 AM CDT/3:30-4:30 PM UTC:
From Collage to Quilt!
Sarah Hibbert
Learn about the fun aspects of paper play when creating a paper collage design. Sarah will discuss the need for balance and correct placement of the paper pieces to maximize creativity. She will show examples of her collages, which she has taken from the medium of paper into fabric, and will discuss her method of increasing an original design to a larger-sized format. Sarah will also share suggestions for choosing the ideal piecing methods and construction techniques when turning your design into something different and new. Explore the use of collage as a design tool and springboard to bring an idea to life. Sarah will also cover the use of typography from media pages and the impact that blocks of color can bring to your design.
12-1:30 PM CDT/5-6 PM UTC:

Community Sewing Lounge
Connect with other MQG members around the world! Grab a sewing project and a snack and chat with fellow quilters virtually in these randomized chat lounges.
1:30 PM-2:30 PM CDT/6:30-7:30PM UTC:
Philosophy of Foundation Paper Piecing Design
Veruschka Zarate
Discover the guiding principles Veruschka employs when approaching foundation paper piecing (FPP) design and modern fabric colors. She will share about some of the elements learned through trial and error regarding design, as well as some of the pitfalls and successful components when drafting, designing and sewing large scale FPP patterns. Veruschka will also speak to the function and use of solid fabrics within FPP design as a tool to accomplish a clean, minimalistic, and modern aesthetic.
3-4 PM CDT/8-9 PM UTC:
A Curvy Retrospective
Jennifer Carlton Bailly
Ever wonder how Jen Carlton Bailly got obsessed with curves? Hear all about her curvy journey to examine what started it all, what happened along the way, and where things are headed now.
4:30-5:30 PM CDT/9:30-10:30 PM UTC:
Creative Ruts
Tara Faughnan
Ebbs and flows in creativity happen, and it can be disconcerting to find yourself in the middle of one. In this presentation, hear Tara's stories of being in a creative funk, and she will share how she gets through "quilter's block" when it strikes.
Friday, Oct. 14, 2022
9-10 AM CDT/2-3 PM UTC:
Quilt Design in Procreate
Karen Lewis
Karen will cover the go-to skills of the Procreate App in this interactive workshop. Learn to design and color quilts without the labor-intensive task of drawing and coloring with paper and pen. Learn to change colors with the simple press of a button in order to try different color schemes in your quilt designs. Karen will also show how easy it is to import fabric swatches to get a feel for how a fabric collection will look in a quilt design. Not sure if Procreate is the app for you? Find out by watching along and seeing the benefits of this extremely intuitive app.
10:30-11:30 AM CDT/3:30-4:30 PM UTC:
Getting Started with Hand-Dyed Fabrics
Audrey Esarey
Let's take the mystery out of hand-dyed fabrics! Audrey will share many things she wishes she'd known when she wanted to start dyeing fabric. Learn about the tools needed to get started dyeing fabric, including dyes, chemicals, containers, detergents, and measuring tools. Audrey will also cover the process of several dyeing techniques including color gradations, the fabric texture that results from each technique, and resources where to find more information.
12-1:30 PM CDT/5-6 PM UTC:

Community Sewing Lounge
Connect with other MQG members around the world! Grab a sewing project and a snack and chat with fellow quilters virtually in these randomized chat lounges.
1:30 PM-2:30 PM CDT/6:30-7:30 PM UTC:
Pleating: The Illusion of Precision Piecing
Heidi Parkes
Looking for an easy way to create complexity in your quilt? Pleating is Heidi's modern twist on the traditional techniques of fabric manipulation, pin-tucks, darts, and pleats. Simply fold your fabric, sew, and create the illusion of a pieced seam. Heidi will share her advanced tips and hacks for precision pleating – including planning and prepping a seam, sewing with a machine or by hand, and the art of pressing. This versatile technique adds texture, visual movement, and a modern aesthetic to both improv and planned quilting. The workshop will include video tutorials, examples of Heidi's quilts, and lots of inspiration!
3-4 PM CDT/8-9 PM UTC:
Which Way Up?
Sue Bouchard
Explore the possibility of incorporating directional fabric to enhance your quilt designs. This fabric can be the focus or used as a design element to add movement and unexpected results to the overall pattern. A variety of samples will be shared as well as techniques to cut and piece for excellent results.
4:30-5:30 PM CDT/9:30-10:30 UTC:
The Patchwork Closet: Wearing Pieced Textiles
Bianca Springer
Explore integrating quilted textiles, old and new into garment making. Make a statement with just a small accent or create a completely pieced garment. In addition, you can upcycle both pre-made garments and vintage quilt blocks into your wardrobe. Bianca will talk about how to do all of these things – including important pattern and garment considerations to think about when using quilts in your wardrobe pieces.
Saturday, Oct. 15, 2022
9-10 AM CDT/2-3 PM UTC:
Quilt Math 101
Sarah Ruiz
Learn quilt math basics and get answers to all of your burning calculation questions! Quilt math is simply elementary math and a bit of optional geometry – come see how simple it can be, and gain confidence in your ability to turn your designs into reality. In the first half of the session, we will walk through quilt math basics, from quilt sizing and seam allowances to fabric yardage calculations. The second half of the lecture will be an interactive Q&A with the audience. Attendees can submit questions ahead of time or come prepared to virtually raise their hand. Sarah Ruiz is a pattern designer, tech editor, and engineer who likes quilt math just as much as quilting itself.
10:30-11:30 AM CDT/3:30-4:30 PM UTC:
How Quilt Stories Sustain Us
Frances O. Dowell
Like sustainable quiltmaking, quilt documentation is both preservational and generative. In the process of saving our quilt stories, we create connections and community. Join writer and Quilt Alliance Board member Frances Dowell as she explores the importance of preserving our quilt stories and discusses the QSOS (Quilters' Save Our Stories) oral history project, which the Quilt Alliance will re-launch in 2023 with a project documenting quiltmakers and their stories across several communities, including the Modern Quilt Guild. Let's talk about the many ways our quilt stories matter!
12-1:30 PM CDT/5-6 PM UTC:
Community Sewing Lounge
Connect with other MQG members around the world! Grab a sewing project and a snack and chat with fellow quilters virtually in these randomized chat lounges.
1:30 PM-2:30 PM CDT/6:30-7:30 PM UTC:
Big Stitch Hand Quilting
Sandra Chandler
Sandra will demonstrate how to create the Big Stitch used for hand quilting. During this lecture, Sandra will talk about how to choose the correct fabric and thread choices to make your stitches pop. She will also identify some of the best needles and thimbles to use making big stitches. Hand quilters of all levels will be able to master this stitch and create beautiful quilts.
3-4 PM CDT/8-9 PM UTC:
What's a Little Alteration Between Friends?
Ben Millett
Patterns can be a guide during your quilting journey for more than just the physical items they are used to create. They can also be a tool to develop your own voice and design aesthetic. Just like the fiddling you might do with a recipe to make what you're craving, you can start with a pattern to explore what you really want to put into quilts for yourself or others. Ben will talk through variations he has made to existing patterns and how those adaptations led him to make quilt designs (for his own use) that spoke to him and what he wanted to see.
4:30-5:30 PM CDT/9:30-10:30 PM UTC:
The Paradox of Visual Randomness
Diana Fitzgerald
We have a tendency to feel that we have a certain sense of what looks and feels truly random. But this sense often detects randomness where there is none, or fails to identify randomness where it exists. In her own work, Diana strives to create a seemingly random placement of patchwork pieces that have actually been selected and positioned according to simple rules. Paradoxically, the rules she follows are exactly what creates a pattern that appears random or haphazard to our eye. Let's dig into this interesting phenomenon and how it appears in our everyday lives. Then, we'll apply this idea in an experiment by laying out a patchwork and talk about what we can do to create a sense of randomness in our sewing projects.
Sunday, Oct. 16, 2022
9-10 AM CDT/2-3 PM UTC:
Designing Quilts from Pixel to Patchwork
Kerry Goulder
The term "Pixel Art" was first used in the early 1980's while the term "Patchwork" for sewing and quilting has been around for more than 5000 years. What does one have to do with the other? Designing a pixel quilt from your favorite image is a perfect foundation and introduction to designing patchwork quilts. If you have always wanted to design your own quilts, Kerry will show you some of the basic tools and techniques needed to take your design from pixel to patchwork, and how to further develop it in the EQ8 program by Electric Quilt.
10:30-11:30 AM CDT/3:30-4:30 PM UTC:
Temperature Quilts and How to Make Them
Jo Avery
A temperature quilt is created by assigning certain fabrics to specific temperatures. These are used to record daily temperatures in your local area in the current year but could also represent another place or time entirely. Using her own hands-on experience, Jo will be sharing practical advice on how to go about starting this project along with many amazing examples of different temperature quilt approaches including some that add in other daily weather and mood aspects. She will also highlight other craft techniques that can be used for recording temperature.
12-1:30 PM CDT/5-6 PM UTC:

Community Sewing Lounge
Connect with other MQG members around the world! Grab a sewing project and a snack and chat with fellow quilters virtually in these randomized chat lounges.
1:30 PM-2:30 PM/6:30-7:30 PM UTC:
Playing with Colors
Cindy Grisdela
Cindy Grisdela is an award-winning artist who's happiest in her studio surrounded by piles of colorful fabrics. In this lecture, she'll use examples of her work to take away some of the mystery about choosing colors effectively and fearlessly for your quilts. Go beyond dry color theory and learn alternative ways to choose colors for your projects. This is the lecture to reduce your stress about color!
3-4 PM/8-9 PM UTC:
Practical Tips for Complex Piecing
Tighe Flanagan
Y-seams and partial seams sound a lot harder to sew than they actually are! Instead of avoiding them, Tighe invites you to learn about them in this talk on advanced piecing techniques. Tighe will demo how he uses these methods in his studio on his own projects and give participants tips he's learned along the way to yield consistent, accurate results. He will share how to make accurate y-seams without marking any fabrics and how to use partial seams confidently in your next project. This talk will also cover how to factor fabric grain and cutting into your precision piecing plans – when it matters, and when it might not.
4:30-5:30 PM CDT/9:30-10:30 PM UTC:
How Do I Quilt It?
Christa Watson
Most quilters understand how important it is to practice machine-quilting designs on small fabric samples, but they often have trouble applying those designs to an actual quilt. In this informative lecture, Christa Watson will share her secrets for domestic machine-quilting success which include: adequate basting, choosing the right thread colors, thinking about how to divide and conquer each task, and learning how to create rich texture with little to no marking of the quilt. Christa will also discuss the importance of making a quilting plan, so you can figure out the best path around the quilt with the fewest stops and starts. Once you see how easy and carefree her methods can be, you'll feel empowered to quilt your own quilts!
Sessions Frequently Asked Questions
Q: How do I register? How much does it cost?
A: MQG Sessions registration will open, strictly for MQG members, on July 26th at 11am CDT/4pm UTC. One ticket for the event is $95, each attendee must have their own ticket, and a ticket includes all twenty lectures and four community sewing sessions. It's quite a bargain! Registration will remain open for MQG members through the end of the final session.
Q: Can I buy a ticket and watch with my guild friends?
A: As long as they have tickets as well, sure! Each ticket ensures that we are able to pay each speaker fairly, so each ticket is priced per person, not per group or guild. No group or guild rates are offered, as we have priced this event to be as affordable as possible to all. If an attendee shares their registration information with others or shares their access to the event in any way, their access may be terminated with no refund as a result.
Q: What if I can't attend live?
A: No problem. All educational presentations will be recorded and made available to registered attendees within 24 hours. All registered attendees will be able to play recordings on demand for 14 days following the event. Community sewing sessions will not be recorded.
Q: What type of internet connection do I need? What type of computer do I need?
A: We strongly recommend a high-speed internet connection and Google Chrome as your internet browser. We will be using the same platform used during QuiltCon Together, our 2021 virtual event. This event platform is called Cadmium, and if you previously participated successfully in QuiltCon Together, you are all set!
Q: What time zone are the sessions listed in?
A: Sessions are listed in Central Daylight Time (CDT) as well as Coordinated Universal Time (UTC).
Q: Can I participate with an iPad?
A: MQG Sessions is best experienced through Google Chrome on your laptop or desktop, but using Google Chrome on your iPad should work as an alternative.
Q: Do I have to be an MQG member to attend?
A: Yes, you sure do! Not a member yet? Join today!