The MQG is sewing to make a difference!
Last year, we kicked off an annual challenge for members to sew for a charitable cause and raised nearly $1500 for Trees for the Future! This year, we are holding our second Make-a-Difference Challenge, which will benefit Oceana. The theme of this year's challenge is OCEANS.
Who is Oceana? Oceana is a non-profit organization dedicated to protecting and restoring the world's oceans on a global scale, they seek to make our oceans as rich, healthy, and abundant as they once were. Founded in 2001, Oceana is the largest international advocacy organization focused solely on ocean conservation, with offices around the world.
The votes are in! Thanks to everyone who entered. We raised $1350 USD for Oceana. Scroll through the gallery to see all the winners!
1st Place: Grand Prize Winner: View From the Deep by Barbara Averill, Sponsored by Moda Fabrics

2nd Place: Blue Ribbon Prize WinnerA Drop in the Ocean by Connie Zafiris, Sponsored by Aurifil

3rd Place: Blue Ribbon Prize WinnerCoral Charade by Steph Skardal, Sponsored by eQuilter.com

4th Place: Blue Ribbon Prize WinnerAt the Edge by Diane Wespiser, Sponsored by Lucky Spool

5th Place: Blue Ribbon Prize WinnerRhythm of the Kelp Forest by Renee Tallman, Sponsored by Morris Textiles

6th Place: Blue Ribbon Prize WinnerOcean Sunset by Sophia Day, Sponsored by Ruby Star Society

7th Place: Red Ribbon Prize WinnerCurrents by Rebecca Swank, Sponsored by Sulky

8th Place: Red Ribbon Prize WinnerAegean Sunset by Tatyana Kelly, Sponsored by Brooklyn Haberdashery

9th Place: Red Ribbon Prize WinnerKelp Forest by Ann Coyle, Sponsored by Wonderfil

10th Place: Red Ribbon Prize WinnerOctopus! by Claire Victor, Sponsored by Olfa
Theme and Rules
Design and sew any size quilt embracing the theme of OCEANS that uses all Moda Bella Solids. Entries will be submitted online via photo submission, limit of one entry per MQG Member. Each entry fee of $12 will be donated in its entirety to Oceana.
BUNDLES ARE SOLD OUT: A variety of Mystery Moda Bella solid bundles in limited quantities (4 fat-eighths) are available to use in the challenge. There will be a $5 shipping and handling fee for each bundle so that we can focus all dollars received from entries towards the Oceana donation. Members are welcome to sew from their stash of Moda Bella solids or source their own.
Submissions will open for entries on July 11th and close on August 8th. One submission is allowed per member. Every quilt submitted will help fund real, measurable change for the oceans, from protecting sea turtles from commercial fishing gear to restoring the world's wild fish populations to serve as a sustainable source of protein for people.
MQG members will have the ability to vote for the winners of the challenge from August 10th-16th.
The top ten winners will receive fantastic prizes from our sponsors!
Make-A-Difference Challenge Timeline:
April 21: Announcement of theme and rules. Start designing & sewing!
May-June: Sew!
July 11-August 8: Submit your quilts
August 10-16: MQG Member voting on submitted quilts.
August 19: Challenge winners announced! Total donation amount announced.
Save this "I'm In!" graphic and share it on social media. Share your progress using the hashtag #MQGMakeADifferenceChallenge.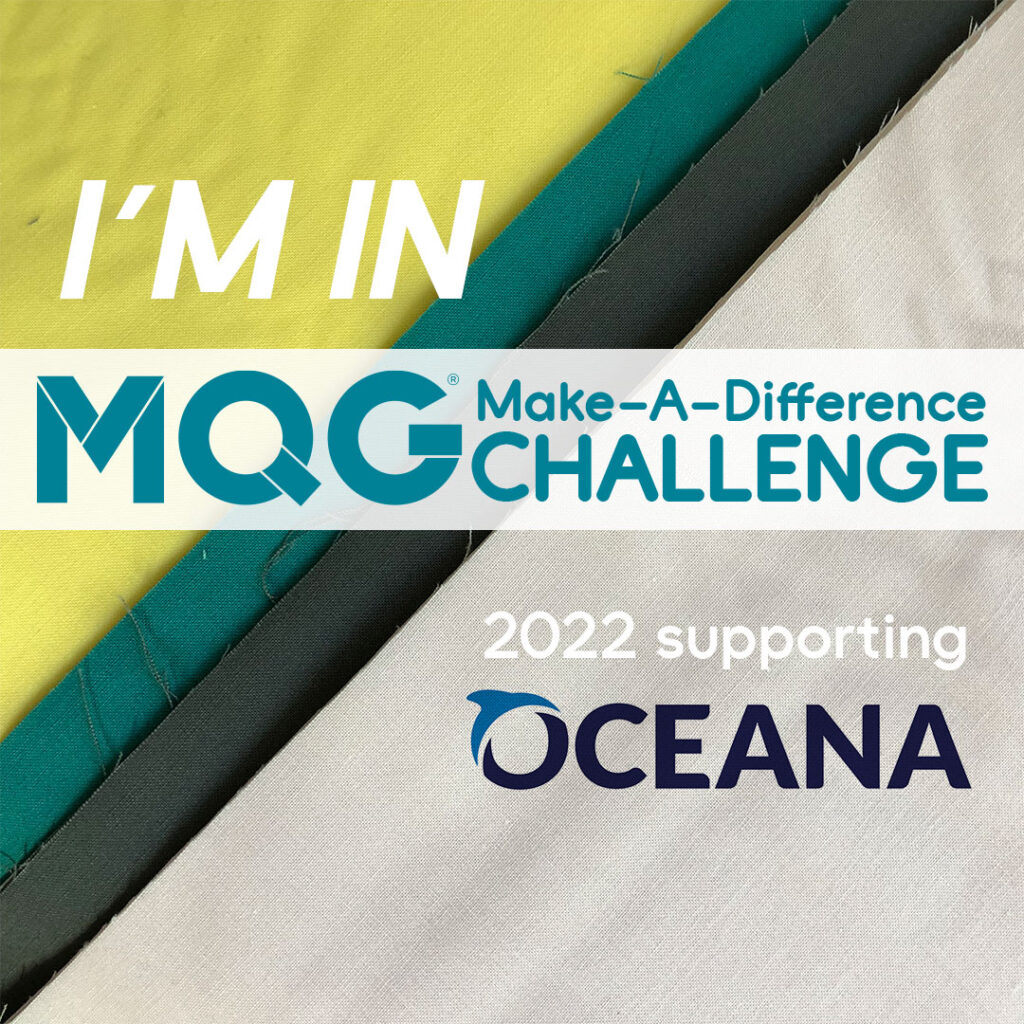 Make-A-Difference Challenge Rules:
Each MQG Member is eligible to enter one quilt for the Challenge
Quilts must have 3 layers held together with quilting or tying.
Quilts must have a finished edge.
Quilts can be any size.
Quilts should embrace, reference, or be inspired by the challenge theme of OCEANS.
Makers will submit their quilt via online photo submission. There will be no physical shipping of quilts. Each entry will cost $12.
Each MQG Member is eligible to vote on the submitted quilts. All voting is anonymous.
The top 10, as determined by member votes, will receive prizes!
Check out the fantastic prizes from our sponsors!
In addition to benefitting Oceana, the quilts you make will give you a chance to win one of these awesome prizes.