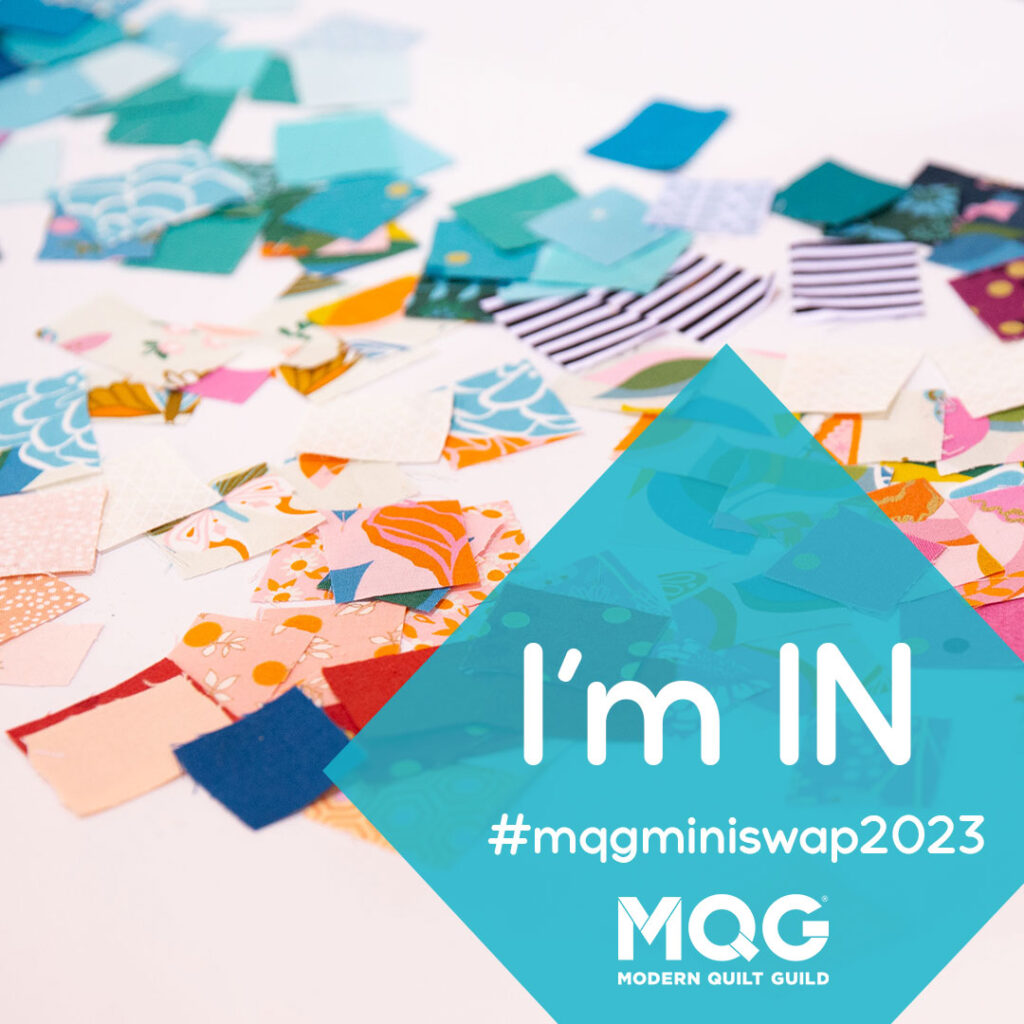 All active MQG members are invited to participate in our 7th annual international MQG Swap!
The 2022-2023 swap will open this fall and swappers will exchange their mini quilts in February 2023. Spots are limited according to the number of volunteer helpers we have, but we're accommodating as many people as possible!
This swap is a one-to-one partner swap, so once matched, participants will know who they're making for and who's making for them. Each participant will fill out a swap sign-up form where they can indicate likes and preferences for the mini they receive. The mini quilts are just that – they are to be no larger than 24" x 24" in total. Use the #mqgminiswap2023 tag to share your progress and to meet other swappers in our community!
The timeline will be from October 2022 to February 2023, and the delivery date will coincide with QuiltCon 2023 in Atlanta. Participants may elect to swap in person at QuiltCon or by mail.
Participants will be assigned a Swap Fairy who will check in during the swap to make sure everyone is on track.
---
Important Dates
September 26: Swap sign-ups open
October 14: Swap sign-ups close
November 7: Partner notifications
January 13: One month to go
February 13: International shipping deadline
February 17: Domestic shipping deadline
February 24: In-person swap at QuiltCon
---
Swap FAQs
1. What is the MQG swap?
Welcome to the MQG's 7th annual modern mini swap! Members will make a mini quilt (no larger than 24" x 24") for a partner. A swap is a chance for you to make a surprise present for another MQG member and receive one in return. It is also a great opportunity to make some new MQG friends.
Participant sign-ups will be open from September 26 to October 14, 2022.
2. Should I sign up if I'm not sure I want to participate?
No! Please ONLY sign up if you are sure you can commit to completing and shipping this project on time. Your partner is depending on you! If you sign up and are matched with someone and do not complete a project on time, you will not be able to participate in future MQG swaps. You can only cancel participation BEFORE matching is complete (mid-October). Don't let this happen to you! If you DO need to cancel in this timeframe, please email swaps@themodernquiltguild.com.
3. What is the deadline to make my project?
You have about three months to make your project. The deadline for shipping within your country is February 17, 2023. The deadline for shipping outside your country is February 13, 2023.
4. Can I participate?
To participate, you need to be an active MQG member and you need to sign up by October 14 (or before slots fill up).
5. Who will I be paired with?
You will be matched with your partner based on shipping preference, allergy requests and similar skill level. You will see what your partner entered on the sign-up form for likes and dislikes.
6. Is this a secret swap?
No! This is a one-to-one swap, which means that when you find out the partner for whom you are sewing, you will know that they are also sewing for you. You can keep the mini secret though! We encourage partner communication throughout the process if you like – make a mini, make a friend.
7. What are the project requirements?
You will make a mini quilt (no larger than 24"x24"), and we recommend taking the opportunity to sew something new to you, or something you think your partner will love! Your project should use modern design aesthetics and fabrics. You have about three months to sew, so start thinking now! You will have information from your partner and your project should be made for THEM. This is a fun chance to push yourself and try something new. Please use high quality quilting fabrics in your project.
8. How do I change my shipping address or other information if something changes?
Please email your assigned Swap Fairy if you need to make any changes to what you submitted in your sign-up form.
9. How do I indicate that my project has been shipped? My partner's package received? What happens if I do not get a package?
Please email your Swap Fairy when you ship your package (including a photo of your shipping receipt!) and again when you get your package. Please also post the mini quilt you receive to social media (tagging your partner), to say thank you! If you do NOT get a package, please let your Swap Fairy know asap and we will make sure you get a mini from someone else!
10. What is a Swap Fairy?
These amazing volunteers are here to help support you during the swap. They are basically team leaders who are there to keep things on track! They will be there to answer questions, and they'll touch base with you throughout the challenge to see how things are going. When you post updates and your finished project on social media, please tag them so they can keep track and ensure that everyone gets a swap item! If you want to sign up to be a Swap Fairy, you can do so here.
11. Do I need to share my work online and check in with the MQG?
We highly recommend that you share your work-in-progress via social media – but because it's an open swap, think about only giving sneak peeks for your partner to see! You are required to check in with your Swap Fairy at the midway check-in, when you ship your package and when you receive your package. You will get emails from us at each of these points reminding you. When you get your package, it is nice to tag your partner in a public thank-you on social media or via email.
12. What are "extras" and do I need to include them?
We are asking that participants do NOT include extras (little items in your package besides your mini quilt) in this swap. We want to make sure that the focus is on making your mini awesome. When you ship your package, make sure you also include a note to your partner and your social media handle/name and/or email address so that they can find and thank you when that package arrives!
13. What do I need to do for shipping my swap project?
Please remember to include your social media name/handle so that your partner can find you and thank you when they get their gift! Also, please, please double-check your partner's shipping information before you send your package. Return addresses are generally not required for domestic shipping, but we recommend that you include it on your package anyway so that it can be returned if there is any problem. We also definitely recommend getting a tracking number or some other form of delivery confirmation and keeping your shipping receipt!
Deadline for shipping within your country: February 17, 2023
Deadline for shipping outside your country: February 13, 2023
14.  How much will I have to pay to ship my mini?
The shipping price very much depends on the shipping destination. If you are concerned about shipping cost, we recommend selecting to ship within your home country (if possible) on your swap form. For our swappers shipping internationally, our Swap Fairies will share detailed instructions prior to ship date.
15. What if I have other questions?
If you have questions about making your project, ideas for your partner, shipping, etc., please contact your Swap Fairy, whose name and contact information are at the bottom of your matching email.
If you have issues with the sign-up, do not get an email with your partner's information or need to drop out of the swap for an emergency, please email us at swaps@themodernquiltguild.com